GameDay Gear
In just a few days OU will be kicking off the first game of the season! This means Norman will be covered with all different shades of red and white. Some schools dress up for game day and some schools not so much. I'm really lucky and I go to a school where you can pretty much dress however you want as long you're sporting school colors! Weather is a big determining factor for how I dress! I like to be comfortable, so if it is 30 degrees outside then I'm wearing a ton of layers, so you might not be able to see my crimson sweater. And when it's 90 degrees, shorts and t-shirt are more my style. I also like to dress according to how big the game is! OU/TX is one of our biggest games of the year...I mean we do go all the way down to Dallas for it, so I like to put together a special outfit for that specific game. Whether you like to only wear tees or dress super nice, my picks for game day gear covers both spectrums!! Plus you'll get to see all the fun accessories you can find at Tulips to help make your game day outfit extra special!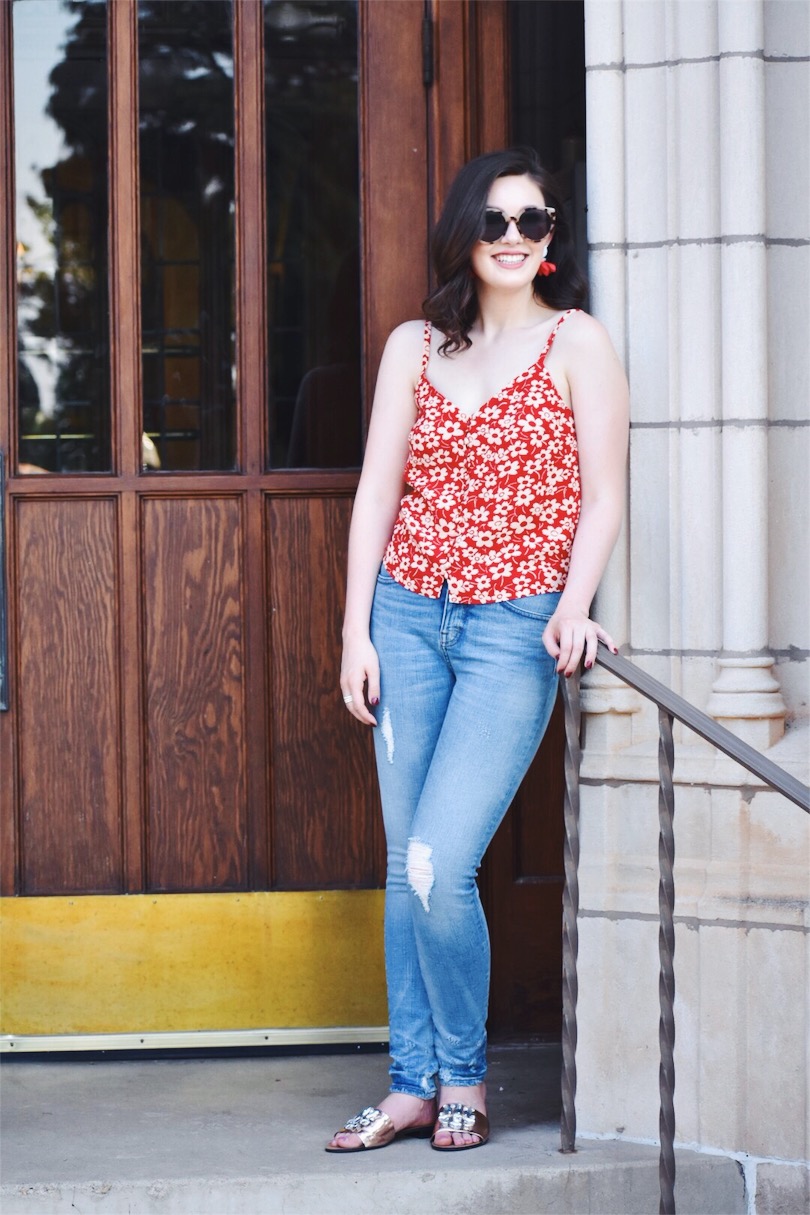 When it's 90 degrees sometimes I don't wear my nicer game day clothes because, well let's be honest, I'm most likely going to sweat a lot. (Unless you're going to an indoor tailgate/watch party then wear whatever you want!) I like to wear jeans or shorts and a cute little top when it's super hot outside! I also like to shop at places I normally shop at for game day clothes because I'm a big advocate for wearing things several times! I love this top from Madewell because I originally didn't buy it for football season, but then I realized it would be perfect to add to my game day wardrobe! Versatility is important when shopping for an event or season because you want to be able to wear it again without feeling like you just came from that event or game in this instance!
The detailing of the shirt didn't call for a lot of accessories. I chose to add a fun pop of red and white with my earrings. (from Tulips of course!) I think it's perfectly okay to mix different shades of red and white for game day! It shows your spirit, plus it's a good way to get better at mixing colors and prints! Again, for me, I always like to mix subtly, so a pair of earrings was a perfect addition.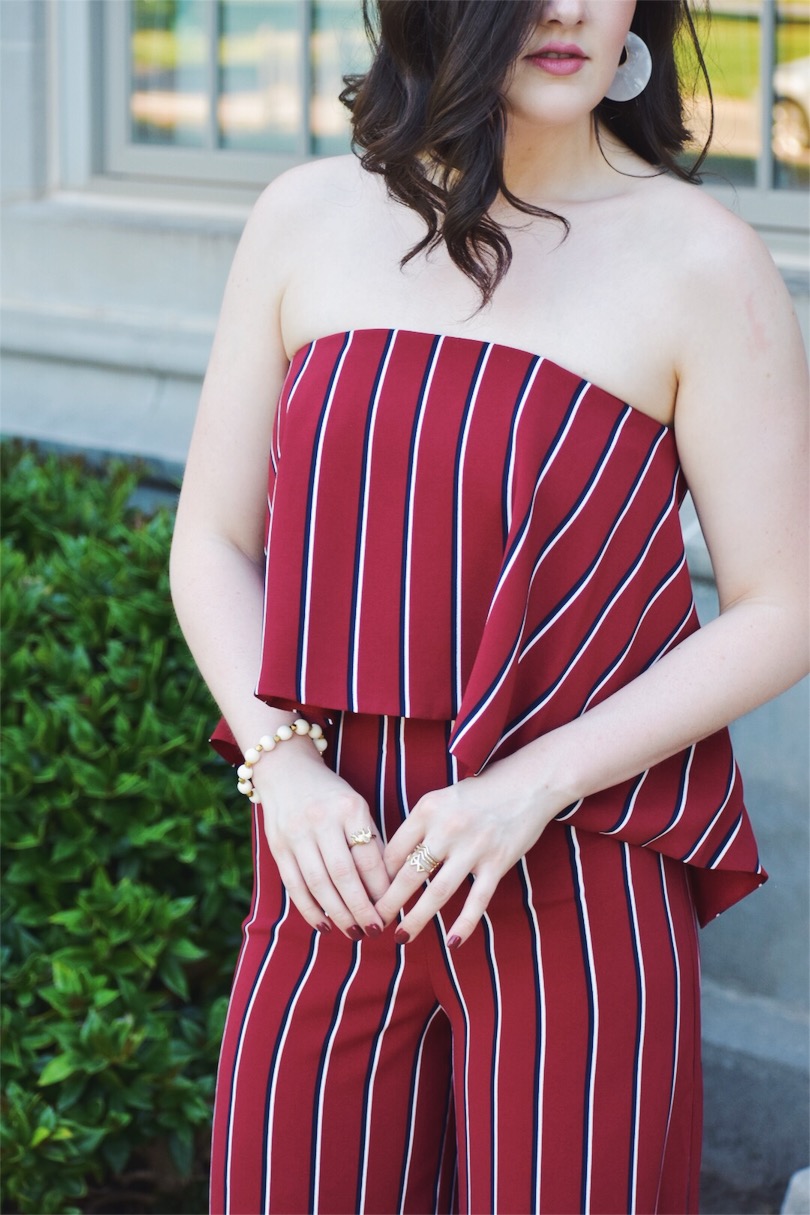 Jumpin' for this jumpsuit!
As some of you may already know, I love jumpsuits!! They are comfortable and well kind of a power suit for me. I always feel super confident in them; I think it's because, if you find the right fit, they are extremely flattering. I stumbled upon this jumpsuit at a local boutique in Norman! (Lucca) I love finding unique items at our local boutiques because when I'll wear this somewhere else, like in Arizona for example, there's a very slim chance that someone else will be wearing it as well! This jumpsuit in particular is not heavy, is breathable, and as you can see strapless. This outfit would make for a great September/early October game day outfit because it's cool enough for hot weather, but also would look amazing with an oversized denim jacket once the temperature cools down a bit.
My earrings and bracelet are from Tulips!
The jumpsuit is the statement! Crazy, loud jewelry and shoes aren't necessary to add to the outfit and in fact would look a little silly. In this case, less is more! The jumpsuit has so much going on and is so flattering that most people will probably notice the outfit as a whole as opposed to some wild earrings that distract from the rest of what you're wearing. You still want to be cohesive when pairing accessories.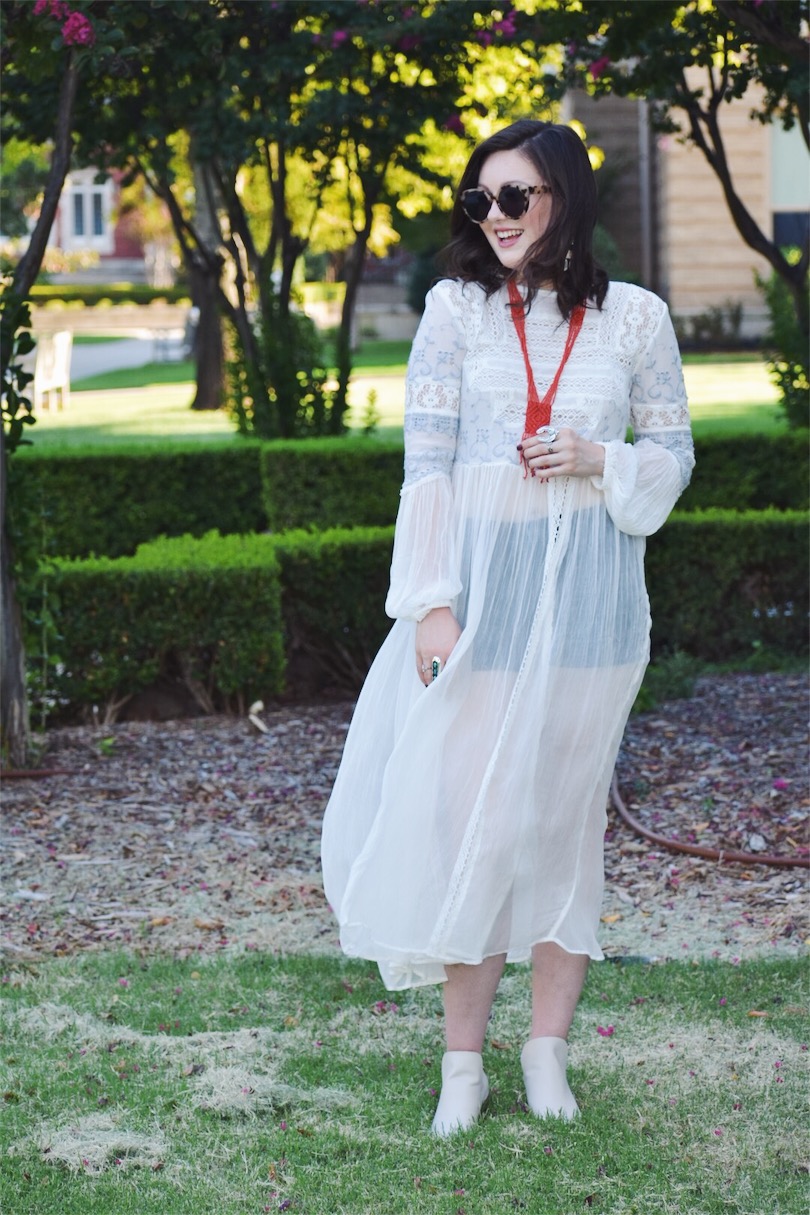 Okay so this outfit is totally outside my comfort zone! I saw this tunic awhile back and completely fell in love, however, it was a bit out of my college girl budget! I waited a month or two and all of sudden I found it again and this time it was ON SALE!!! Now what do I wear with it? Honestly it's Free People so I think you can do just about anything. Since it's August, and I'm already wearing (super lightweight) long sleeves, I thought putting it with a pair of jean shorts and ankle boots would be fun and different! Not to mention a good solution to the heat wave we're having right now. For game day outfits or for your everyday wear, I encourage to take risks, go outside your comfort zone, but above all else wear what makes you happy! I definitely love how this garment flows and makes me feel confident and sexy!!!
Jewelry Rundown: The earrings are from Tulips!! I especially love these earrings because they don't scream game day! I can wear them again and again to so many different occasions! The necklace is extra special to me because I bought it in Venice last year! I found this fantastic jewelry store full of beaded everything! I specifically bought this necklace thinking I would wear it to a game someday and now I finally have the perfect top to wear it with!! My rings are from my everyday ring collection. My favorite ring is the squash-blossom ring. Why is it my favorite? Well it was actually my grandma's ring! I'm all about mixing old, new, and having sentimental jewelry.
Of course I'm going to have a dressy tee outfit for game day!!!
Okay so the t'shirt is for sure a personal preference! For me, I prefer this slightly cropped tee because it makes it a little nicer and shows off your figure! With this outfit, I decided to go all out with the accessories! Honestly totally getting some Blair Waldorf vibes, but was she ever wrong?? Guuurrrllll NO! Let's bring the headband back! Okay whether you are on the headband and statement earring train or not, dressing up your Sooner tee will make you feel super cute on game day! Instead of jeans or shorts, add a cute skirt...or even better a fun/funky pant! Jewelry is a must so add whatever your go to accessories are and make sure your shoes are cute and comfy! I know cowgirl boots are a fan fave, but if that's not your thing (it's not mine) then try a cute sneaker, ankle boot, or a fancy sandal! If you really want to up your game and you know you will be sitting more than standing then wear wedges or heels! Whatever you do, dress up that tee!!
Earrings are from where??? You guessed it, Tulips!! Y'all if you've not figured it out by now, they are a fantastic place for unique fun earrings ranging in price and styles! PLUS they have tons of other great accessories, gifts, home goods and much much more! The tee is from another campus corner favorite Lucca! My headband is from Anthropologie! And the shoes and denim skirt were items in my closet already. Now I will say when shopping for these outfits I didn't necessarily pair them together as I was shopping. In fact, I've had this headband from last year. I have this habit (I don't know if it's good or bad) of buying stuff that I know I'll wear eventually, but I might not have the right items to pair with them yet. Sometimes it takes months to a year before I wear something because I just don't have the right items yet and I can't find what I'm looking for in stores OR my budget doesn't allow me to keep looking! But in all honesty, it's fun collecting stuff and eventually putting together the perfect outfit! It's like a surprise!! If this method works for you and your budget, then buy now and worry later! (of course do everything in moderation)
Game day is almost here! If you haven't figured out what you're wearing yet, I hope this post gives you a few ideas when shopping for the perfect football season attire! I encourage you to go to your favorite stores, but also to shop local. There are some fabulous stores on campus corner full of clothes and accessories to help you with your game day needs. Tulips and Lucca were featured on this post to give you a taste of what they have to offer and let me tell you they offer a lot! Even if you're wearing stuff from last year (I will be too, outfit repeaters are okay) check out Tulips for accessories to help freshen and update your looks.
Follow me on all social media platforms @artlifefashion. Links at the top of the page! Be on the lookout for a special game day surprise this week. And of course, BOOMER SOONER!!!