Go With The Flow
No, this is not a post about periods and the flow women endure once a month. I do have some major thoughts on the subject, but I'll save that for a later date. This post is about my favorite trend right now: flowy dresses/skirts. I realize "flowy" is technically not a word (yes I'm talking to you, English majors/word nerds/grammar nazis), but I work in retail and I talk about clothes enough that I can attest it is a common word used to describe the movement of a garment. Also ain't is now in the dictionary, so flowy can most definitely be a word. As I'm writing this, I can already tell that this post is going to get annoying for me to write because of the red dotted line that will pop up every time I write the word "flowy", but I will power through because I believe this trend deserves a whole blog post.
Let's get down to business:
I absolutely love how romantic these dresses/skirts can make you look and feel. They're not just great for literally all occasions (I will be proving that statement throughout the week, so I'm going to tell you now to start following me on Instagram if you aren't already); but they do a fantastic job of making you feel whimsical, feminine, and romantic all at the same time. There's a bit of a fairytale aspect to it—you all of a sudden feel like a princess in your own modern fairytale. You, yourself, are already a badass, because I believe all women are, but like, why not be a badass in a gorgeous dress/skirt that you can twirl in and make you feel like you're an absolute goddess? Woah I'm winded from that sentence and I'm just typing my thoughts. But seriously think about it: You are a badass, why not dress to express who you already are? ….Okay I recognize, those might be just my feelings, but I feel very strongly about this trend.
Let me break it down geometrically: In the fashion world, proportions have always been something people experiment and play with—whether it be to balance them or imbalance them, it's something many designers and people who think about fashion/care what they wear often explore. I for one, am always looking of balance and proportions that complement my figure. 6-7 ft. tall models look fabulous and oh-so-chic in giant proportions that do not complement their figure. I, however, am 5'5 and short waisted, so I just look ridiculous and might I say, a bit stumpy in non proportioned outfits. Not a good look for me, unfortunately. Sometimes I still find myself experimenting because I do love the look of boyfriend jeans and an oversized top with a gigantic coat and stiletto pumps. It's very Kim K West the later years with her bicycle shorts and puff coats. However, for any sized person, a sundress/flowy dress is the way to go because it will always flatter your figure! Some might argue it gives you a figure of an asparagus, but it's the subtle a-line that gives you shape while also creating a bit of mystery. That mystery, in turn, adds to the romance of the garment.
The movement allows the "viewer" to see her body in several ways. There's an element of surprise. The proportion is balanced because your top half and is fitted and it slowly loosens as you move down the body. *Pro tip: the larger circumference of the skirt or bottom half of the dress during twirls, the more flattering it is to the body when still. Best way to figure it out is to dance/twirl—duh! "Dancing it out" is not only a great shopping tool, but also an excellent stress reliever. Just ask Meredith Grey and Christina Yang okay! Let's break down these looks shall we?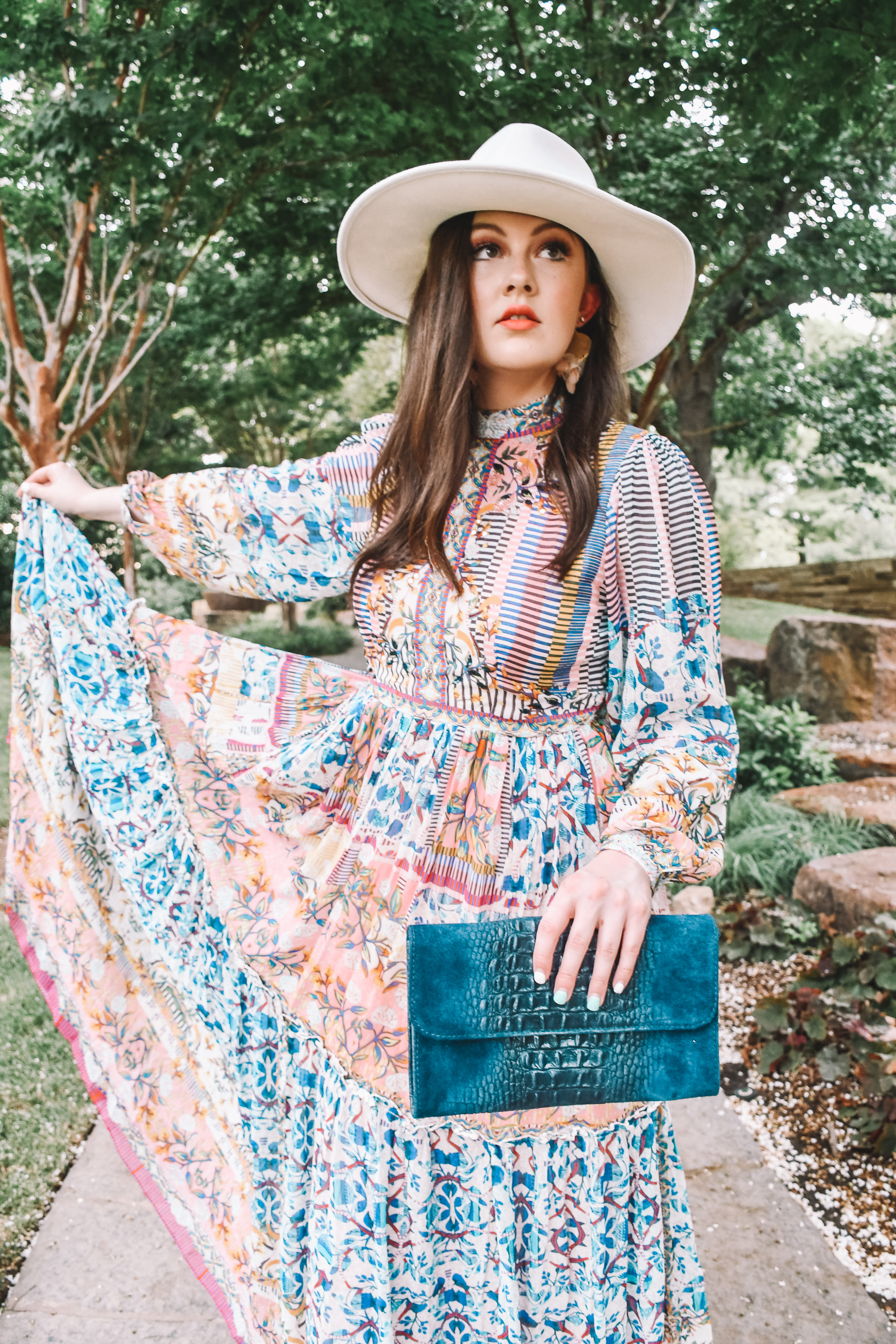 I absolutely love the vintage feel of this dress.
The silhouette is very classic—almost has a peasant dress feel to it. Then with the mix of the print and accessories it gives it a modern twist. Though this dress doesn't show a lot of skin there is still a sex appeal. The whimsical pattern gives it a dreamy look. (insert dreamy heart eyes emoji) A woman who wears this dress doesn't just get attention, but also has people thinking about what they saw long after she's gone. I think when getting dressed, it's not just about looking and feeling good, but adding to the story of your life. It's a piece of the puzzle. The dress becomes it's own character in your story.
*Pro Tip: don't be afraid of loud prints or adding accessories to such a statement piece. You've got to give what you're wearing life and that all comes from how you style it.
Living in Oklahoma, sometimes I forget to go bold in what I wear. It doesn't feel as comfortable to wear bright colors and mix bold prints here, as it would in a bigger city like NYC. I always say Paris will be the height of my fashion career—if I get the chance to go someday, I'm not sure how I will be able to dress after roaming the streets of such an iconically fashionable city. I digress…
You've got to be true to yourself and wear what makes you happy! With that being said, I love, love, love this outfit for many reasons: 1. the vibrancy of the colors. It's a little outside my comfort zone, but it's good to constantly push yourself even in what you wear. 2. You can play with proportions little more. I decided to pair it with a fitted top and let the skirt drape on my body. Added a hat to balance it out. I can (and will) most certainly pair this skirt with less form fitting tops, boots, and/or other things to change up the look from time to time. 3. This is honestly just a bonus, but the skirt is so free that I'm able to take cute pics like the one beside me. An excellent dance skirt for sure!
Hello gorgeous—I'm talking about the dress people!
What I love most about this dress is that it allows for an abundance of options when it comes to stying this dress. Like, I can't wait for fall to wear this dress with a denim jacket, boots, and a fab pair of earrings! It's romantic and versatile. It's something that is so classic in the cut, print, and flow that it will never go out of style. It's a timeless dress. I love having fun pieces in my closet like the outfits above, but this dress is something that will stay in my closet for a long time. Another reason I love this dress is because of the way I'm walking in it like in the pic to the left. It's so long and flowy I must carry it in my hand no matter the shoe I'm wearing. I know sounds like a pain, but hear me out: there's an added layer of movement to the dress when you have to carry it in your hand to keep you from tripping. I feel extra girly (which is so not a bad thing) in a dress like this and I'm here for it. This is the dress I wear to special occasions. This is the dress I wear when I want to feel extra good about myself. I know it looks flattering on me when still, but also adds character when in motion. These are things we don't necessarily think about when shopping for our closet, but they're there— we subconsciously think about them when we try on clothes that we love. It's those feelings we feel—I'm just putting words to them.
The best part about all three of these looks is that you can purchase them NOW by visiting my shop page on here or my LIKEtoKNOW.it page! Plus add a denim jacket or light suede jacket and some boot heels and you are ready for fall. And Lord knows I am!! Is anyone else sick of this sweltering heat? I mean, I know it's August, but still #dying
Please enjoy some more pics of these outfits—I had way too much fun on this shoot and I seriously can't choose just 1-3 pics to share, which, by the way, never happens. I'm lucky to get one I like from a shoot, but I guess I was really on my game that day!? Also I do realize this post could have easily been about the hat! Hats are also great!! *Quick note: if you feel like your proportion is off with an outfit add a headpiece like a hat or headband. It never fails me when I need some balance with what I'm wearing.
Again make sure to follow me on Instagram: @artlifefashion to see how style these looks differently. Plus more things to come on both Insta and LIKEtoKNOW.it! Anddddd if that's not enough? Subscribe down below to always stay up to date on all things Art.Life.Fashion.